Compressa disinfettante al biossido di cloro
[Cloro disponibile]: 10%
[Periodo di validità] : un anno
[Certificato] ISO9001-2000 Certificazione del sistema di gestione della qualità
[Confezione] : 1 g / tablet 10 cartoline / cartone. 40 cartoncini / busta, 10 kg / barattolo di fibra.
[Funzione] : Questo prodotto può uccidere bactriacandida albicans e bacillo vegetale, questo prodotto è in grado di virus dell'epatite.
[Istruzioni]: il prodotto è applicabile in disinfezione per l'acqua potabile e la superficie di oggetti. Come: ospedali, hotel, resturtants e ambiente pubblico, famiglia, trasformazione dei prodotti alimentari e sterilizzazione in acqua
[Approccio all'utilizzo] :
In base alla concentrazione d'uso, pronto un litro (1 kg) di acqua, mettere la compressa direttamente nell'acqua fino a quando non viene risolta la sua complessità, quindi utilizzarla come nella tabella seguente:
Disinfectant object

Concentration

(mg/L)

Numbers of tablets

Usage Method

Time (min)

Surface of general object

100mg/L

1 tablet

Spray Cleanse

10-20

Public environment

100mg/L

1 tablet

Spray

10-20

Tablewear Tea set

100mg/L

1 tablet

Immerse Rinsing

10-20

Fruit vegetables

100mg/L

1 tablet

Immerse Rinsing

5-10

Refrigerator deodorization

300mg/L

3 tablets

Spray Cleanse

10-20

Deodorization of garbage and toilet

300mg/L

3 tablets

Spray Cleanse

10-20

Hospital Sickroom, Toilet

100mg/L

1 table

Spray Cleanse

10-20

Infected area spittoon bed pan

300mg/L

3 tablets

Rinsing Spray

30

Hospital sewage

5 mg/L

Add 1 tablet into 20Lwater

30

Domestic sewage

1-5mg/L

Add 1 tablet into 100-20L water

30

Drinking water

0.2-0.4mg/L

Add 2.4 tablets into 1cubic meter of water

30
[Avvisi]
1. È facile assorbire l'umidità, quindi l'imballaggio non deve essere aperto prima dell'uso e usato immediatamente.
2. 1. Dovrebbe essere utilizzato nel luogo buio, fresco, asciutto e ventilato con contenitori di plastica o contenitori di ceramica
2. Dovrebbe essere immagazzinato nel posto che è scuro, asciutto e acido e alcali evitati.
3. È un forte ossidante, l'azione nel trasporto, nello stoccaggio e nell'uso deve essere conforme alle pertinenti normative nazionali
4. Quando vengono usati troppi farmaci, è necessaria più acqua. Se si ottiene un farmaco negli occhi, lavarli con acqua pulita il prima possibile.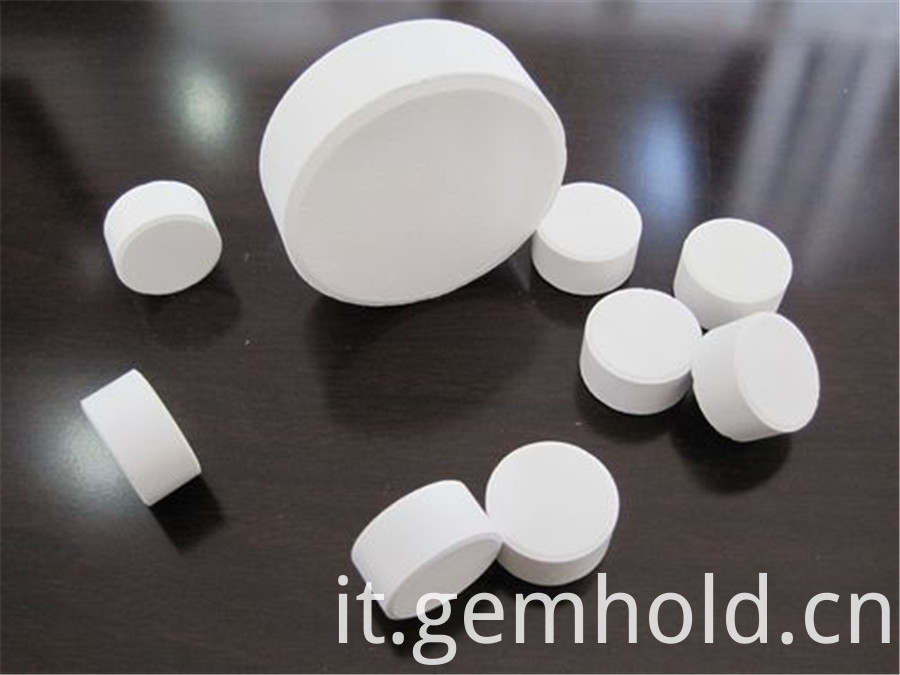 Elenco prodotti : Prodotti chimici per il trattamento delle acque